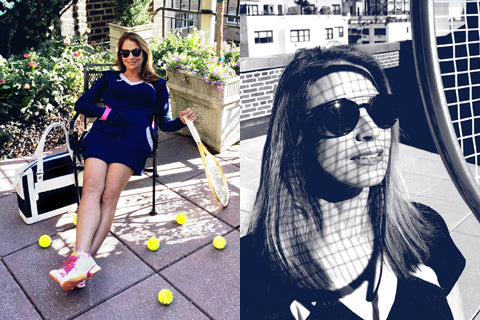 COURTGIRL MAG LAUNCHES INTERVIEW & STYLE EDIT SERIES WITH JILL ZARIN
COURTGIRL MAGAZINE

 
(courtgirl.net)
, today announced the launch of an Interview & Style Edit series profiling influential women, both celebrities and 'the girl next door', who who are connected through their passion for tennis, style and the constant search for life balance.
This Interview & Style Edit series gives an opportunity for luxury brands to showcase their products on 'real women' who play at the recreational level not just tennis stars. "Whether we feature the girl next door or a celebrity, the images are styled towards glam and fun. There's plenty of time in our daily lives to look sweaty and 'natural'... this is about an escape from the ordinary and a way to celebrate our passion for tennis," said Marina Merzel, CG Mag editor. The featured brands in the premiere article series launch 
"Playing Hamptons to Boca: Jill Zarin, A Day in the Life of a Club Player"
 i
nclude:

 
Cortiglia
,

 
Babolat
,

 
Angle New York
,

 
Rudy Project
 

and

 
BIJOU Tennis
.
"All women share the same struggles no matter where they come from or who they are. Tennis is a way to socialize, vent, get physical and carve out a piece of time away from the challenges of everyday life."
—Marina Merzel, CG Mag Editor.
"I needed to escape from my life for two hours. I was drawn to tennis later in life when my daughter was off to college and I had a little more time to take care of myself."
—Jill Zarin, formerly of The Real Housewives of New York City.
The interview format is light and positive while at the same time revealing that no one is perfect and we are all going through similar life experiences, "You can only do two out of three things well at the same time." 
—Jill Zarin
The first installation of this Interview & Style Edit format is live now featuring Jill Zarin on

 
courtgirl.net
. This series is a unique PR opportunity for celebrities or influencers to display multi-dimensional interests and personality, or to promote personal projects. Previous public figure interviews on COURTGIRL MAG included: Arianna Huffington (Founder, HuffPost), Beth Behrs (Actress & Star of

 
2 Broke Girls
, CBS), Patrick Mouratoglou (Tennis Coach, Serena Williams) among others.